Axcient is a business technology which impressed us immensely. If you're a business with a need for something more than backup, then Axcient is for you. Offering not just backup, but business continuity and disaster recovery right out of the box, you have the ability to spin up a virtual machine on your local Axcient appliance, or even in the Axcient cloud.
Protection from the likely, to the highly-unlikely:
Most data-losses occur when a file is accidentally deleted. 80%+ of all data-losses are HUMAN caused. However, even in the event of the unlikely, perhaps your entire office get taken out by a flood, fire, asteroid from above, how would you carry on?
More than a simple backup:
Many small businesses have backups – the typical backup is an external hard-drive, with windows or a 3rd-party backup software running to take a snapshot… most times, overnight. With Axcient, your IT admin (or us) – can restore a file and even a single email, or spin up your entire office in the Axcient cloud and you are up and running in a few short hours – how cool is that?!? Need more frequent backups? We can increase snapshot frequency to every few minutes!! You can either watch a video demo – or the slideshow below: Click the this image, then use your mouse or cursor keys to view these the slideshow:
---
About Axcient: Axcient is the Powerfully Simple Disaster Recovery-as-a-Service solution that companies use to eliminate data loss, keep applications up and running and make sure IT systems never go down. With Axcient, you can reduce your IT operating expenses and ensure employees are always productive.
---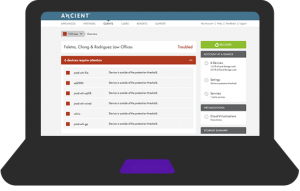 We're confident that you now want to know more about how an Axcient backup + Disaster Recovery system can protect your business – so fill out the contact form below NOW!!!