ESET helps you keep your competitive edge with multiple layers of protection that don't interfere with server uptime and availability. Using advanced heuristics technology, we stop newly released malware to keep your business safe even before new signatures are available. On-access scanning protects system memory, running processes and files from malware attacks. Launching on-demand or scheduled scans keep all your server's hard drives free of malware. All this, with one of the industry's top combinations of fast scanning, accurate detection, low false positives and small system footprint.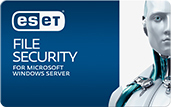 ESET File Security for Windows Server:
ESET File Security for Microsoft Windows Server provides superior protection for your company's data passing through the file server. The solution utilizes the proven ESET NOD32 scanning engine at its core and combines high detection speed, smooth performance and stability to ensure a continuously high level of security.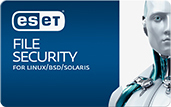 ESET File Security for Linux / BSD / Solaris:
Keep your network clean and maximize IT efficiency without draining resources. File Security provides on-demand and on-access protection from known and emerging viruses, Trojans, spyware, rootkits and other threats. And, it not only detects and cleans malware that targets Linux, BSD and Solaris OS, it identifies and eliminates Windows and Mac malware as well.