We first met the PacketSled name through a mutual CyberSecurity professional – we watched them as they progressed from startup to company making moves into the area of deep packet inspection and traffic analysis areas, and watched with interest as the company made some high visibility deals with places like the City of San Diego.
The company was on the 'keep an eye on this one' list. This was a company that was founded and nutured in a cyber-incubator run by someone we know. We did not and do not know their founder and former President & CEO.
So it was rather interesting to read that the Founder, President and CEO had come unglued after the recent US Presidential elections and made some stupid threats towards the President Elect.  Details of how this has affected their top exec can be found in this YouTube video:
https://www.youtube.com/watch?v=JdITjBUi2zY
Matt Harrigan was a 'tech superstar' with a very blessed life. He founded his own cyber security company called PacketSled, and was making a large $5M salary. He had a wonderful house and a wonderful family. He had it all.
Mr. Harrigan, as proud liberal, thought it would be funny to post some nasty threats about POTUS Elect Donald Trump as it became clear that Hillary was about to lose the election. That was the start of Mr Harrigan's troubles: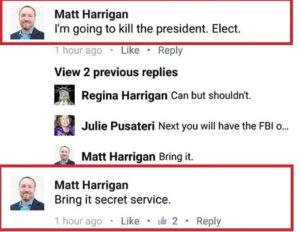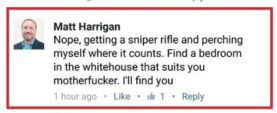 The fallout of these stupid comments are that the PacketSled President and CEO Matthew Harrigan had to tender his resignation, lost his $5M a year salary, and had to move his family into hiding because of large numbers of threat to his life, and that of his family.
On top of all this, Mr Harrigan had to face serious questions in a 2 hour long interview with the Secret Service, Matthew Harrigan has opened his mouth and uttered (or typed) some of the stupidest things we've seen. We hope that his family is safe and that the death-threats stop soon. These stupid comments have cost Mr Harrigan dearly, they should not cost him or his family any harm to themselves personally.
Time will tell if this incident costs the company customers, or whether it will have a financial impact on PacketSled itself, because Matthew Harrigan resigned quickly, we think they might be able to weather this storm as a company – after all, they aren't to blame for a booze fueled rant – but it might reflect on them negatively to some degree. Humans are – well – Human.
While a technology in your business that prevents access to Social Media would not have stopped the CEO from posting (they're probably trusted normally) – nor would such a technology have prevented him from posting these threats from a personal device to personal facebook/twitter accounts; but we feel this cautionary tale should be shared with all staff. Stupidity on social media can and will have MAJOR impact on a person, from their personal to their professional lives – it may also have implications for the company they work for.
A cautionary tale… it doesn't matter how upset your get – don't threaten the POTUS or POTUS Elect!