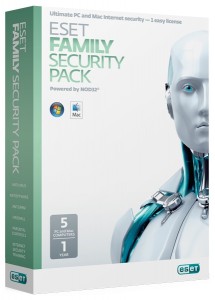 Just in time for father's day – ESET changes the licensing for ESET Family Packs… prior to the change, the family pack protected 5 devices – any mixture of PC + Mac + Mobile Devices – up to 5-devices… ESET listened to the buyers and now we have a new product – the ESET Family Protection 3 Computer and the 5-computer pack got better.
From here on out, protection will be 3 or 5 computers PLUS an equal number of ESET mobile devices.
So – the 3-user family pack will provide protection for up to 3 computers – PC and mac, plus up to 3 ESET mobile devices.
The 5-user family pack provides any mixture of 5 computers – PC or Mac – and any combination of ESET Antivirus, ESET Smart Security or ESET CyberSecurity – and – 5 ESET Mobile devices.
Special pricing is in place on all ESET Family Packs right now.